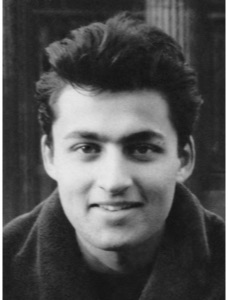 Stanislaw Fernandes in 1961, Probationary Year. Photo taken by Richard Hamnett, fellow student
I received my graduate education at St Martins School of Art, London, now called Central St Martins College of Art & Design. I had originally planned to study fine art, however, during the Probationary first year I discovered that the Graphic Design course would better suit my strong interest in the usage of imagery in mass communication. In addition, the course allowed me to experiment with many forms of visual mediums such as photography, motion pictures and of course, the conveyance of information through print. The Graphic Design course did not only teach me about good positive imagery used in story telling, advertising, and packaging, it also taught me how images and adverting tactics can be misused for propaganda and in all forms of subliminal mass communication. I found the course very relevant for our time, even more so now with the advent of the Internet and mass media via cyber communication. In one form or another, we have been using images from the beginning of history, from the time of the cave drawings to the renaissance masterpieces. What we call art has always played an important role in linking with our human psyche through pictures and symbols. At every stage of our development we keep discovering new ways to improve messaging between people and influencing them through images. I continue to spend virtually all of my time studying human made images and scenes that affect our daily lives, while at the same time creating new images for myself and my clients.
Here are some examples of the work I had done while attending St Martins. One of my extracurricular activities was help run the college film society along with Nicolas Jacobsen who was the founder of the film society. Helping with the society gave me an opportunity to design some of the many film posters we needed for many of the films we showed. There were some great posters designed by my fellow students who I asked to volunteer. Sadly I do not have any examples of them.
Click any image above to see a larger size or see a slideshow